There are some ingredients that are always worth having stocked in your pantry. These simple staples will help you create a multitude of different dishes so it's good to have them around if you're stuck and need a bit of inspiration. Whether it's the first time you're actually stocking your own pantry or doing a big clean-up and reorganising, this guide will be perfect for you.
A little sidenote, we actually skipped the obvious items like oils, flour, sugar and so on to make things much simpler.
So without further ado, here is our Pantry Essentials list with 10 ingredients to always have stocked in your kitchen!
1. Frozen veg & fruit
What's not to love about these?! They are nutritious and convenient and create no waste. Use frozen vegetables to help you reach your five a day – these are perfect not only as standalones, but also for soups and pates. Add a couple of handfuls of frozen mixed vegetables to rice, use frozen spinach in a frittata, make sweetcorn pancakes and top them with a fried egg for brunch. Top your breakfast cereal with homemade frozen fruit compote, use them to make puddings, blitz them in milkshakes and smoothies. Porridge made with half coconut milk, half water, topped with cherry compote and toasted flaked almonds? Delicious!
TIP: Freeze fruit and veg yourself if your fresh ones are getting overripe or you know you won't use them before they go bad. This way, you reduce waste – both of food and money! Freeze veggie scraps to boost the flavour of stocks later on.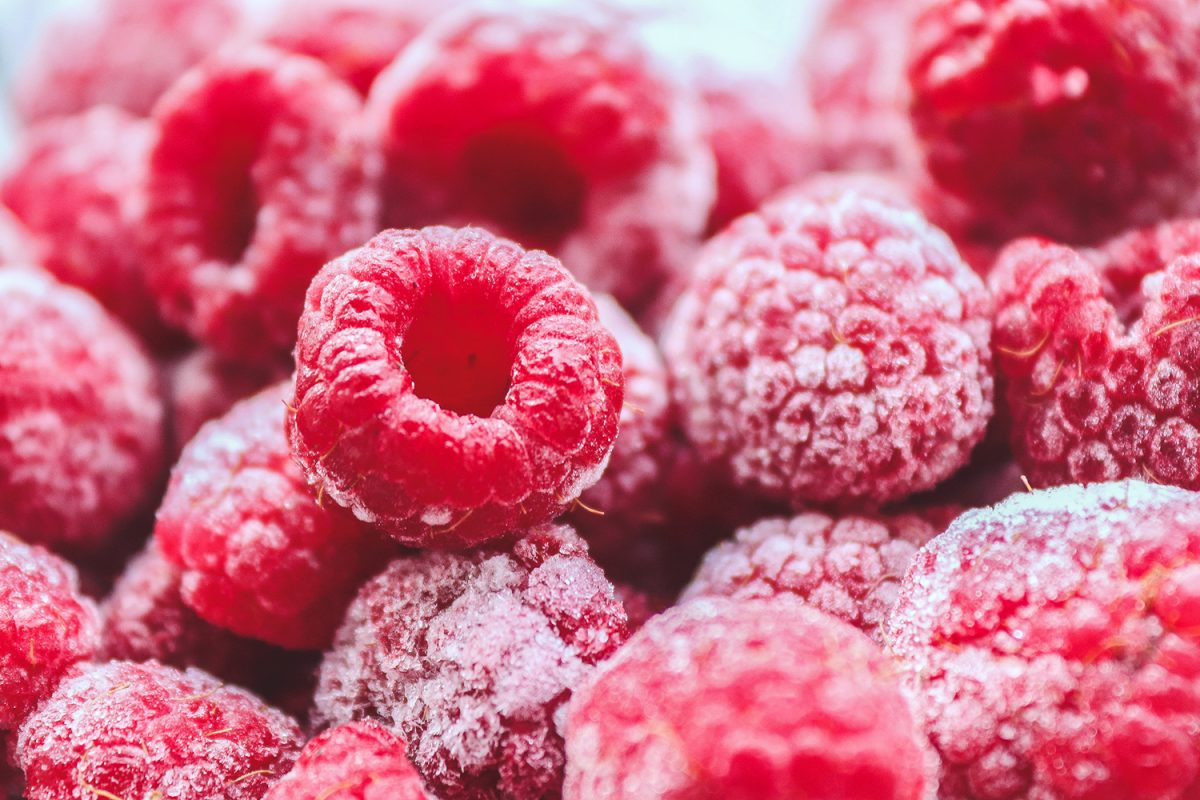 2. Beans/pulses
Another staple, especially in vegetarian dishes. They're versatile, nutritious and inexpensive. Everyone talks about tinned but a cheaper alternative is to buy, soak and cook dried ones and then freeze them in usable portions. Use them on their own or to bulk out meat dishes. Try to use a variety! 
Split red lentils are super-convenient – they don't need soaking or pre-cooking, just give them a rinse and they'll cook to tender in 15 minutes.
Chickpeas can be used for all sorts of things – from the most obvious like making different styles of hummus, through falafels and hearty stews, up to adding them to salads and putting them in flatbreads. Did you know that you can also use them to thicken soups? Try it out, you won't regret it!
Other pulses like cannellini beans mashed up with olive oil and lemon juice are good instead of mashed potatoes – if you have any herbs around they can be added to it.
Another reason to always have beans around? Brownies! They are rich, fudgy, don't taste like beans at all and are absolutely fabulous – especially when you're vegan or gluten-free! So make sure to have some kidney beans or black beans stocked for when the craving hits.
TIP: Soaking beans/pulses reduces the amount of tannins and polyphenols which increases the absorption of minerals and proteins!
3. Oats
Well, we are in Scotland! Start off with a classic porridge or overnight oats, but don't stop there! Add them to crumble toppings for various dishes, pop a spoonful in your breakfast smoothie, make biscuits, flapjacks, cranachan! The great part is, they are not just for the sweet things… Cranks cheesejacks, anyone? Oat pancakes (dosa style), Mexican oatmeal bowl tasting like tacos, Korean dakjuk oatmeal… The versatility of oats makes them that perfect ingredient that you should always have stocked in your pantry!
TIP: Start your day off with some oats to avoid being peckish later – oats have a lot of fiber and a higher content of protein so they help keep the cravings away for longer.
4. Quinoa
Need we say more? Not only is it considered a superfood, but it goes so well with a myriad of other ingredients. Make sure you always have quinoa around to transform the way you think about lunch. Scrambled eggs with spinach, delicious and filling salads, quinoa falafel, a variety of tasty soups and, of course, a classic buddha bowl with your favourite veggies. Cook more than you need and divide the remaining quinoa into useable portions and place in freezer bags. Then when required, take one from the freezer to quickly make up your salad to take to the office for lunch. The secret to making a delicious quinoa salad is to pack it with lots of flavour! Add quinoa to your list of pantry essentials and you'll be surprised how often you're able to use it in your cooking! 
TIP: Rinse your quinoa under cold running water to avoid the bitter flavour. Mix up different colours for a slightly different flavour – white is delicate and fluffier, red is more nutty and rich, black is somewhat sweeter and a bit earthy.
5. Peanut butter
Another absolute favourite! Spread it on your toast, make quick 3-ingredient cookies, blend it with banana and freeze for some delicious nice-cream, stir a spoonful into stir fries and curries or add richness with sauces, dips and dressings. At the end of the day, you can always eat it straight out of the jar! Let's face it, that's one great reason to always have peanut butter around.
TIP: Don't throw away your almost used up peanut butter jar! Instead, pour in a bit of milk, shake well and mix it with your porridge or add to a smoothie for that extra nutty flavour.
6. Tahini
This wonderful toasted ground sesame paste can transform so many dishes and is highly nutritious. It's rich in calcium and iron, so use in salad dressings to add that extra level of micronutrients! Tahini is amazing in dips, sauces & soups and a crucial ingredient of a hummus. If you're feeling adventurous (and your sweet tooth is gnawing away at you), make your own delicious halva. Or, if you simply can't wait, just mix a spoonful with a bit of honey for a wee cheeky snack (psst, it's amazing on icecream, too!). Even if tahini doesn't seem like one of the crucial pantry essentials to you now, introduce it in your cooking and you'll always want to have it around.
TIP: Tahini can sometimes be quite thick and hard to work with so to loosen it up a bit, place a closed jar in warm water and then stir it well with a knife.
7. Coconut Milk
Beloved by vegans and omnivores alike! Have it stocked in your pantry to create a rich texture for your sweet and savoury dishes. It's a base for Southeast Asian and Indian recipes including curries, soups & sauces. Transform a porridge with it for a delicious start to your morning. Add it to your smoothie, marinade your meats or make a vegan bechamel sauce.
TIP: Did you know you can make your own coconut milk in no time? Soak one part of unsweetened dessicated or shredded coconut in two parts of water, blend thoroughly and strain through a cheesecloth, towel or a nut milk bag. Use the remaining pulp for baking!
8. Nuts & seeds
Always having nuts and seeds around is a great idea for so many reasons! Nibble on nuts to get a good dose of healthy fats and micronutrients. Toasted cashews make a delicious dip when combined with butter/fava beans and lemon.
All of us here at the ENTCS love seeds and add them to lots of dishes as they are delicious and full of minerals. Toast them lightly first in a dry pan until they are starting to pop but do not burn them. Great in salads, slaws, on cooked green veg and scattered on a garnish on top of fish and meat. Sprinkle over porridge and use them in baking for some extra texture and flavour.
TIP: Much like with beans, soaking nuts and seeds boosts their nutritious value and makes them easier to digest.
9. Condiments
These open a wide array of possibilities to add an extra layer of flavour to your dishes. Have your favourite condiments around in your pantry to revamp any recipe. Start with some cider vinegar which can be used instead of lemon juice in many dishes that need a bit of acidity. It balances the flavours beautifully! Make marinades with bottled sauces such as Worcester Sauce or Chilli Sauce and stock up on some Asian Condiments like Sesame Oil, Soy Sauce and Fish or Oyster Sauce for absolutely delicious salad dressings and stir frys.
TIP: Make sure to regularly check the Use By/Best Before dates on your condiments and store them properly. Clean off any crusty buildup on the bottles and caps.
10. Herbs & spices
Fresh herbs are flavourful and can revolutionise any salad and sauce. However, if you're opting for longevity, choose dried. Woody herbs dry especially well – so think rosemary, thyme, oregano. Sprinkle rosemary on potato dishes, add thyme to tomato sauce for pasta, marinate feta in olive oil and oregano. Cumin and chilli powder add warmth, sumac and lemongrass provide fresh citrusy aroma, smoked paprika and chipotle peppers give a robust smoky complexity to any dish. And remember – anything can be made to taste better with the judicious use of a little salt and pepper!
TIP: To get the most flavour and aroma out of spices, buy them whole and grind them yourself just before use in a mortar or even a coffee grinder. Keep your herbs and spices in a cool, dark place, preferably in airtight containers to preserve freshness.
BONUS INGREDIENT:
Make sure to always have your absolute favourite ingredient stocked at all times. If you can't live without avocados or your love adding fresh mint everywhere you can, always have it on your shopping list. Let is be your very own pantry essential!
Now we'd love to hear from you. What ingredients do you always have stocked in your pantry? Which ones can you absolutely not live without? Do you have any other pantry essentials that you'd add to the list? Share it with us in the comments below. You can also pop on our Facebook or Instagram and spread a good word! If you're looking for some cooking inspiration, head on over to our Recipe section!
Did you like the post? 👍
Pin it for later! 📌