This recipe contains chopped dried apricots but you could also use other dried fruit such as cranberries, peaches, apples, cherries, blueberries etc. You could also add a mashed banana or nuts such as hazelnuts, pecans or almonds. Sunflower and pumpkin seeds also work well. Alternatively, if you don't want to add fruit just leave it out.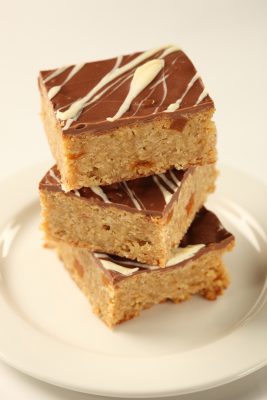 Ingredients
300g butter
100g golden syrup
300g soft light brown sugar
200 mls condensed milk
500g rolled oats
85g chopped dried apricots
300g milk chocolate
50 g white chocolate
Instructions:
1. Preheat the oven to 180C/ fan oven 160C/ gas mark 5. Line a 30x 25cm (12 x 10 inch) roasting tin or tray with baking parchment paper. Melt the butter, syrup, sugar and condensed milk together. Do not allow it to get too hot. Mix in the oats and apricots. Press gently into the prepared tin and put in the oven for 15 – 20 minutes. They are ready when they start browning at the edge. The middle will still be a little soft but this will become firmer as the flapjacks cool.
2. Allow the flapjacks to cool in the tin. Move to a wire rack and once cold spread melted milk chocolate over the top. When this has set drizzle melted white chocolate over the top.
3. Once set cut into bars or squares.
If you enjoyed the recipe or have any questions at all, feel free to email us at info@entcs.co.uk and we'll be happy to help! Share your creations using our #ENTCSCreations hashtag on Instagram. Check out our other recipes by visiting our Recipe tab and subscribe to our Youtube channel for some exciting recipe videos.