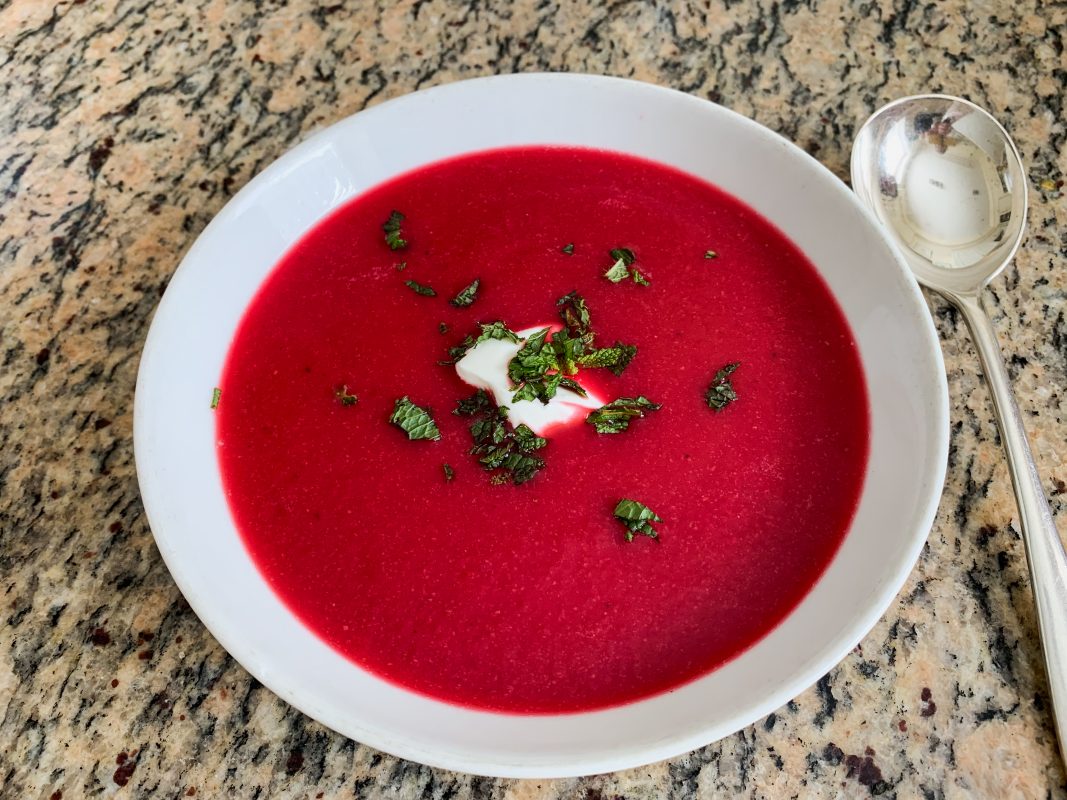 Beetroot is a highly nutritious vegetable that's often underestimated in the kitchen. Not only is it rich in vitamin A, C and B9, but it also contains a lot of calcium, iron and potassium. What's the quickest way to introduce it into your kitchen? Make an easy and delicious beetroot soup! Roasting the veggies beforehand creates a rich and distinctive taste and takes away a lot of work. Check out the video below to see how quick this roasted beetroot soup actually is!
Ingredients
500g beetroot
300g banana shallots
1 tablespoon olive oil
4 cloves garlic, with their skins on
Salt and freshly ground black pepper
500ml / 18fl oz chicken stock
200g chick peas
200mls milk
To serve:
4 tbsp crème fraiche or Greek Yogurt
2 tbsp chopped fresh mint
Serves 3-4
Instructions
1. Preheat oven to 190˚ C / 170˚ fan / gas mark 3
2. Wrap the whole beetroot individually in aluminum foil. Put in a roasting tin
3. Peel the shallots and leave whole, brush with oil and wrap individually in aluminum foil. Add to the roasting tin. Brush the garlic cloves and wrap them all together in more aluminum foil. Add to the roasting tin
4. Roast in the middle of the oven for 20 minutes and then remove the garlic and allow to cool. After another 10 – 15 minutes remove the shallots and allow them to cool down. They should be soft and cooked.
5. Leave the beetroot for another 25 – 45 minutes. The length of cooking time will depend on how big they are. Remove from the oven, open the parcels and allow them to cool sufficiently to handle.
6. Slip the skins off the beetroot and cut of the roots. Cut the beetroot into pieces and add to a bowl, chop up the shallots and squeeze the garlic out of their skins. Add both to the bowl. Add the stock, chick peas and milk.
7. Puree the soup either with a liquidizer or a hand blender until smooth. Add extra stock or milk. Season well with salt and freshly ground black pepper. Heat the soup until just at boiling point.
8. Serve the soup with a spoonful of Greek yogurt and garnished with mint.
If you enjoyed the recipe or have any questions at all, feel free to email us at info@entcs.co.uk and we'll be happy to help! Share your creations using our #ENTCSCreations hashtag on Instagram. Check out our other recipes by visiting our Recipe tab and subscribe to our Youtube channel for some exciting recipe videos.