Pumpkin Soup is one of these dishes which you simply can't skip in the autumn. It's the perfect time to make the most of pumpkins which are just as tasty as they are nutritious. Besides, the reason we love pumpkins so much here at the Edinburgh New Town Cookery School is that they are so versatile. Whether you're in the mood for a treat like a pie or something more savoury, pumpkins never fail to deliver. This season, we're opting for the latter and sharing a lovely Roast Pumpkin Soup recipe with you. But it's not just your regular pumpkin soup! There is a scrumptious twist in the form of some Gruyere Croutes which provide another layer of flavour and introduce crunchy texture to an otherwise creamy dish.
Try this aromatic and perfectly warming Roast Pumpkin Soup with Gruyere Croutes this autumn and let us know how it goes!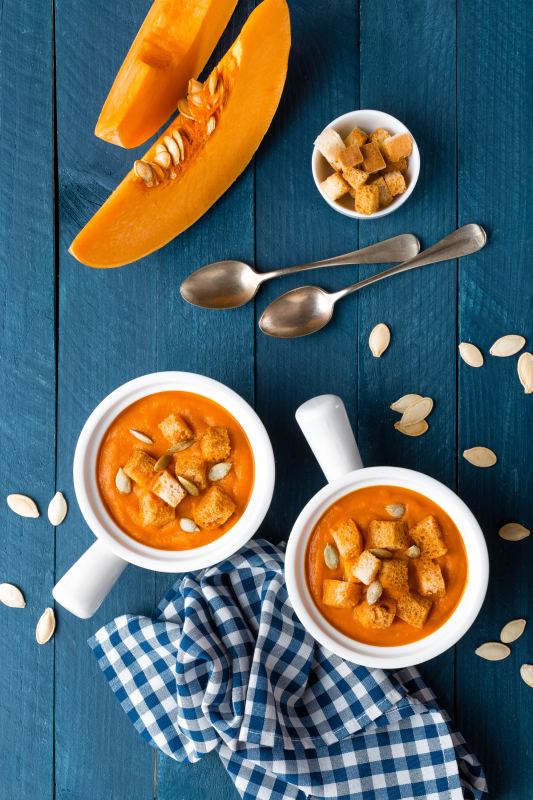 Ingredients
1 medium pumpkin
2 tablespoons olive oil
1 large Spanish onion, chopped
2 cloves garlic, chopped
2 ½ cm/ 1" root ginger, peeled and chopped
2 teaspoons ground cumin
2 teaspoons ground coriander
1.1 litres / 2 pints chicken or vegetable stock
Salt and freshly ground black pepper
150mls/ 5fl oz double cream
12 slices French bread
115g/4 oz gruyere cheese
Serves 6
Instructions
1. Preheat the oven to 200°C/400°F/gas mark 6. Cut the pumpkin into chunks, remove the seeds, stringy bits and peel. Put the pumpkin in a large roasting tin and coat the pieces with a tablespoon of oil. Put in the oven and roast for approximately 40 minutes until the pumpkin is soft and golden.
2. Meanwhile sweat the onion with the remaining oil until soft. Next, add the garlic, ginger, cumin and coriander and cook for a further 2 minutes. Put to one side until the pumpkin is ready.
3. Add the roast pumpkin to the pan with the stock. Bring to the boil and simmer for 10 minutes.
4. Liquidise the soup, add the cream and season with salt and pepper. Serve with the croutes
To make the croutes: Grill one side of the bread, turn over and scatter over the cheese. Grill again until golden.
If you enjoyed the recipe or have any questions at all, feel free to email us at info@entcs.co.uk and we'll be happy to help! Share your creations using our #ENTCSCreations hashtag on Instagram. Check out our other recipes by visiting our Recipe tab and subscribe to our Youtube channel for some exciting recipe videos.